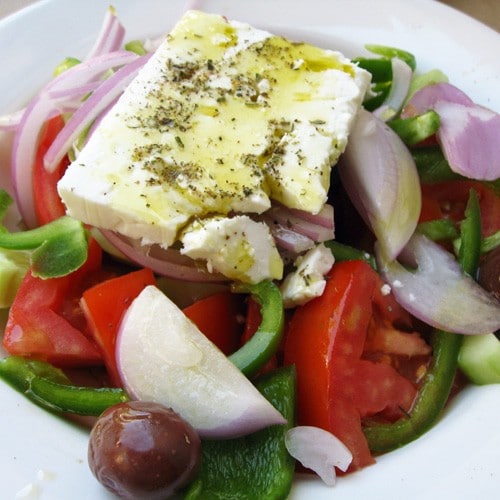 Greek Salad
Serves: 4
2 large ripe tomatoes, cut into medium pieces or wedges
1 cucumber, sliced
1 small red onion, thinly sliced
1 green pepper, sliced
150g feta cheese, crumbled
handful
Green Olives
4 tablespoons
Extra Virgin Olive oil
1 tablespoon vinegar
salt & freshly ground black pepper to taste
1 teaspoon dried oregano
You combine the tomatoes, cucumber, onion and pepper in a shallow salad bowl and sprinkle with salt.  You let it sit for some minutes and then sprinkle the feta cheese and
Green Olives over the salad.  Then you drizzle with the vinegar and
Extra Virgin Olive Oil.  In the end you sprinkle with oregano and pepper to taste.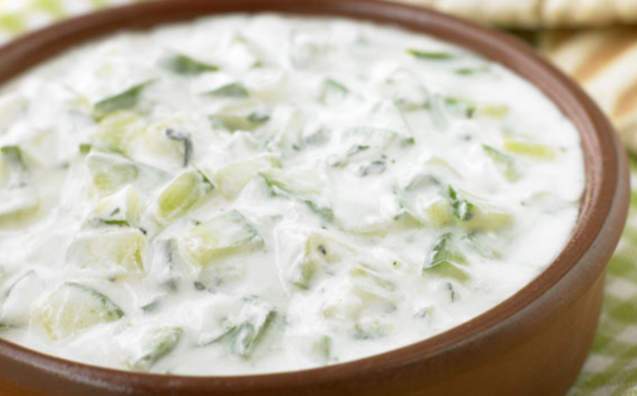 Tzatziki (Greek Yogurt Cucumber Dip)
2 cups greek strained yogurt
1 cucumber  peeled and diced
1 tablespoon dill freshly chopped
3 tablespoons
Extra Virgin Olive Oil
1 tablespoon  vinegar
2 cloves garlic finely minced
1/2 tablespoon  salt
1/4 tablespoon pepper
fresh dill  chopped
You mix until well combined, the
Extra Virgin Olive Oil with the vinegar, garlic, salt, and pepper in a bowl. Add the
Extra Virgin Olive Oil mixture to the yogurt and mix well.  Finally, you add the cucumber and the chopped fresh dill. Chill for at least two hours before serving.
Greek oven-roasted vegetables (Briam)
Serves 6
1kg potatoes sliced
½ kg courgettes sliced (3-4 medium sized)
½ kg aubergines sliced (2 medium sized)
½ kg ripe tomatoes
4 onions
2-3 green peppers
parsley freshly chopped
1 teacup
Extra Virgin Olive Oil
salt & pepper
Peel and cut the potatoes, courgettes, aubergines, green peppers, onions in slices.
Place the vegetables in  layers in a large baking pan, season with salt and pepper, add the parsley and half of the tomatoes smashed.  Put the remaining tomatoes sliced on top of the vegetables.
Finally pour the cup of
Extra Virgin Olive Oil and add some hot water.
Bake in a preheated oven at 200C for almost 1 ½.
Serve warm or cold with tzatziki or feta cheese and fresh bread.